EMDR coaching music helps to reduce stress & deeply relax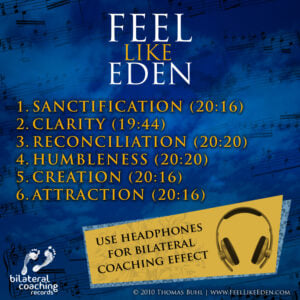 Bilateral brain stimulation helps to reduce mental tension and to calm overflowing emotions. Rotating thoughts and disturbing inner dialogs will cease. A soothing inner peace and positive emotions will appear. Frequently the user sees new options for action in his mind's eye within a short period of time.
The Bilateral Coaching Music – also called EMDR coaching music – uses the auditive bilateral stimulation. The use of headphones is an important prerequisite. Because only the alternating left-right sounds stimulate our brain bilaterally. The beneficial effect is accompanied by unique and soothing sounds.
The EMDR coaching music regulates in a harmonious way our physical and emotional being at a rate of 60 beats per minute – which corresponds to the rest frequency of our heart.
Listen to EMDR-Music or buy at Amazon
During and after the bilateral stimulation of the two hemispheres intense feelings which are perceived as a burdening may occur. (please also read the
important information
)